Hydrogen & Clean Energy
Swagelok can support your research and investment into clean energy solutions.
Learn More
Hydrogen & Clean Energy
Hydrogen is becoming one of the fastest growing sectors of the energy market, as the world continues to drive change to renewable applications and clean energy solutions.
Research into alternative fuel technologies are helping develop cleaner bus, truck and other vehicle solutions, as well as helping power producers and gas companies reduce their impact on our environment for a cleaner, energy efficient future.
Investment into Hydrogen research in Australia and New Zealand is at an all time high, with companies focused on many areas of research, innovation and investment, including;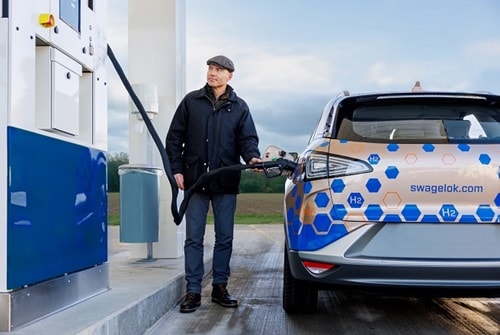 Power Generation
Transportation
Fertilizer Manufacturing
Metal Production
Chemical & Refining processes
Applications include;
Electrolysers
Micro-grids
Fuel Cells
Refuelling Stations
Dispensers & Supply Panels

Swagelok Hydrogen Small Bore Tubing Essentials Training
This course is designed specifically for those installing and maintaining small bore tubing systems in the hydrogen sector, including the transport industry for on-vehicle applciations. Attendees will cover all aspects associated with the safe installation and maintenance of small bore tubing systems in these high pressure Hydrogen systems.
Swagelok are now seeking expressions of interest for Hydrogen Small Bore Tubing Essentials Training.
This newly developed 6-7 hour course will cover;
Nature of Hydrogen - Awareness, Risks and H2 Embrittlement
Installation of Small Bore Tubing Systems
Fitting Design and Compliance
Thread & Sealants - Threaded Installations with H2
Basic Tube Bending
Typical Fittings Used In Hydrogen Systems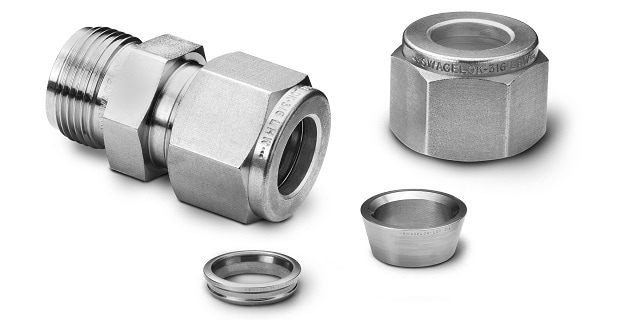 Traditional Swagelok Tube Fittings have been used for decades in Hydrogen applications, from the research lab, electrolysis applications, on-vehicle applications and fill stations and dispensers in both CNG and Hydrogen applications.
Fitting Rating - Up to 10,200 PSI (703 Bar)
Available in 1/16" to 2" & 3mm to 25mm
Swagelok Tube Fittings are typically used with on-vehicle tubing systems for CNG and Hydrogen fuel systems.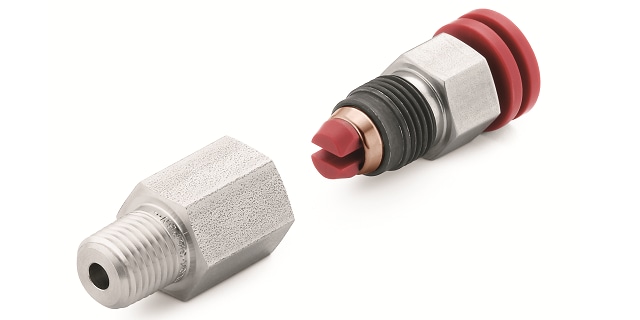 Swagelok FK Series Tube Fittings utilise a simple, two-piece design, consisting of a female fitting body and preassembled cartridge containing the male nut and colour-coded front and back ferrules, allowing for easy assembly and fast installation time.
FK Rating - Up to 20,000 PSI (1,378 Bar)
Available in 1/4" to 1" (6mm to 12mm)
FK Series are typically used with on-vehicle tubing systems and high pressure dispenser stations.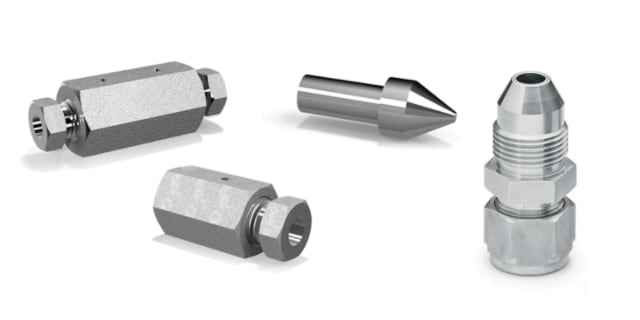 Traditional Cone & Thread Fittings utilise heavy wall tubing and a screw on collar and gland, once the tubing is coned and threaded using special tooling. This provide dependable medium and high pressure sealing performance for the connection.
C&T Rating - Up to 60,000 PSI (4,134 Bar)
Available in 1/4" to 1-1/2"
C&T Fittings are typically used in high pressure compressors, concrete cutting and CNG and H2 Dispenser Systems.
Hydrogen Compatible Products for H2 Mobility Industry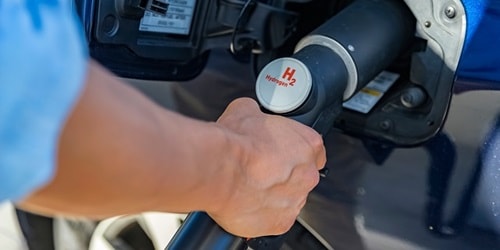 Swagelok has been working with Hydrogen for over 60 years, leading the way in development of Hydrogen products, including the recent Alternate Fuel Service (AFS Ball Valve). The introduction of EC-79 on-vehicle certification for both H35 Pressure Class (systems from 30 bar to 350 bar) and H70 Class (systems from 30 bar to 700 bar) as well as the need for H2 Compatible products up to 1,378 bar, has lead to the creation of a new Hydrogen brochure to help you select the right products for your applications.