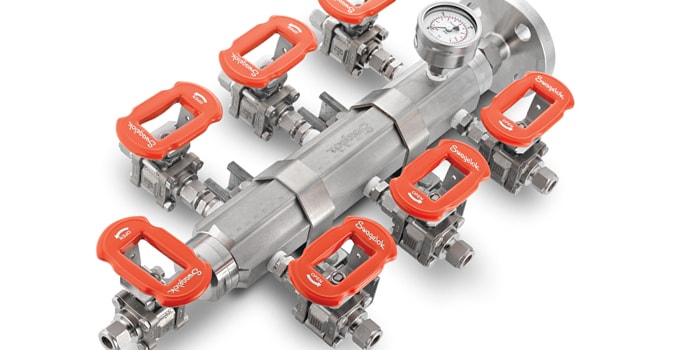 Fluid Distribution Header (FDH)
Fluid distribution headers are used as versatile manifolds in a variety of gas and liquid applications, providing a flow path with multiple outlets, similar to a large branch fitting. With an inlet on one end, a drain on the other end, and multiple outlets on either side, the Fluid Distribution Header uses Swagelok components for enhanced reliability. The unique body design with solidly mounted components eliminates twisting. Easily connect multiple Fluid Distribution Headers inline to create longer lengths.
To purchase this product, contact your local nearest Swagelok location or view our comprehesive CATALOGUE

"Safe Product Selection: The complete catalog contents must be reviewed to ensure that the system designer and user make a safe product selection. When selecting products, the total system design must be considered to ensure safe, trouble-free performance. Function, material compatibility, adequate ratings, proper installation, operation, and maintenance are the responsibilities of the system designer and user.

Caution: Do not mix or interchange product components with those of other manufacturers."