Swagelok helps with industries' biggest, most complex construction project demands. Capital spending is under ever-increasing scrutiny; competition is fiercer than ever; and project overruns are a significant challenge.
You need total assurance.
With our global reach, local capabilities and expertise, Swagelok's global support provides opportunities to avoid and in some cases eliminate challenges to your business. We can support you with…
Cost and time overrun – Scheduling support for supply and training to maximise workforce effectiveness to reducing rework and improving your bottom line.

Regulation & Conformance – Sustainability, compliance, conformance and specification adherence, all are critical. That means standardisation and continuous insight into progress, must be at the heart of any safe, successful project.

Global Complexity – We can aid communications between states, countries or continents, keeping everyone on the same page which is critical to project success.

Managing Costs – Ensuring your supply chain is efficient in sourcing parts, avoiding interruptions from long lead time items and utilising kitting and blanket ordering.

Lack of Resources – Providing a range of supply and fabrication services reduces the impact on your workforce, streamlines your approach and reduces on-site work hours, reducing additional risk and saving you money.

Operational Efficiency – Our team can work with you to look at efficiency of plant, provide opportunities to improve system design and performance, while driving optimisation initiatives that may improve your operational performance.
Swagelok Eastern Australia and New Zealand are backed by a 60+ strong construction team and over 270 Engineers, to ensure your project runs on-time, in-spec and on-budget.
This team enables you to receive locally, the same World Class Experience from Swagelok.
Your business demands high performance and robust engineering. Swagelok delivers the expertise, oversight and assurance throughout the full lifecycle of your asset.
Local experts at Swagelok Eastern Australia & New Zealand are trusted to help you keep operations running smoothly, whether we are supporting component selection or helping you troubleshoot your systems.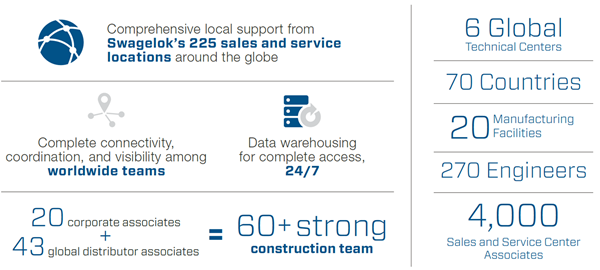 Lacking the right resources and knowledge is a solvable problem. Swagelok offers certified installation training for personnel at all locations, ensuring the safety, performance and understanding required to support increased acumen around fluid system design, installation and application.
The flawless operation of your project depends on it. Available services include:
Working with Swagelok for your next construction project can ensure the consistency and performance that your business demands.