The full day Tube Fitting & Tube Bending Installation Essentials seminar has been developed specifically for anyone involved in the installation, design, fabrication and maintenance of fluid systems. Engineers will benefit from the in-depth review of fundamental installation procedures. Quality control and safety engineers will gain insight into component limitations and maintenance requirements.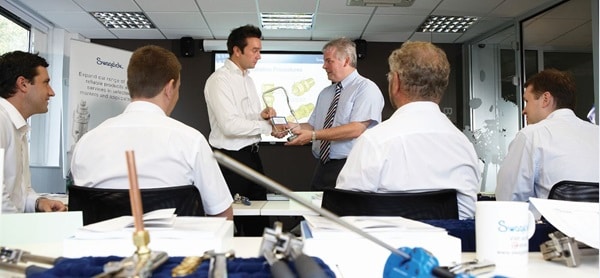 LEARNING OUTCOMES:
Ensuring correct tube selection taking into account pressure and temperature variables
Proper tube preparation eliminating system contamination
Understand best practice tube preparation, care and handling
Ability to install tube fittings correctly providing safe, leak free installation
Knowledge of different types of threads and various thread sealing methods
Easily determine exact lengths of tubing required to complete a job
Ability to apply time saving fabrication techniques
Reduce waste and scrap tubing through trial and error attempts
Save time and resources during scheduled shut-downs or other maintenance periods
ASSESSMENT
Participants are given a comprehensive theoretical examination at the completion of the training. All graduates will receive a certificate of completion along with a complimentary wallet sized training card. The card may be used as an identifier to ensure safe on site practices and procedures are followed by those who have gained competency in the area. Both documents certify the completion of training in tube fitting installation.

REVIEW
All participants will be required to fill out an attendance and assessment form. This provides valuable feedback to our trainers who can then further tailor the course to meet the changing needs of your staff when re-training in the future.
Our training programs have been developed in conjunction with many industry types over many years and are recognised globally as the industry standard for training in small bore fluid system installlations.