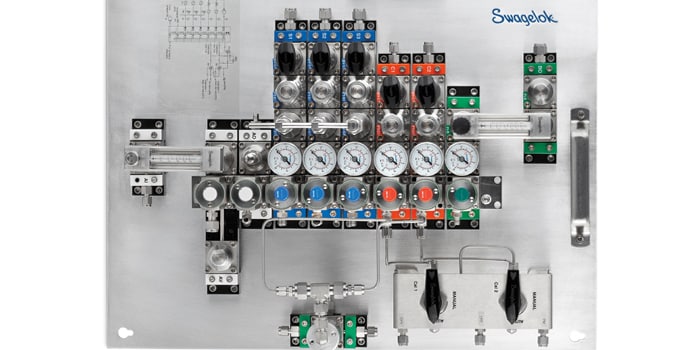 Calibration and Switching Module (CSM)
Swagelok's Calibration and Switching Module provides a discrete switch between multiple process samples and conditions and selects process streams for analysis. The CSM pre-conditions the sample by ensuring samples are inserted into the analyser at the appropriate pressure, temperature, flow, and filtration levels. Integrated flow loop design ensures consistent delivery times to the analyzer across all streams and eliminates any deadlegs or chance for cross-stream contamination.
Built on the Swagelok Modular Platform Component (MPC) platform, the CSM utilises the Swagelok stream selector valve (SSV), allowing the user to select the configuration required for the specific system. The CSM accepts up to ten process and two calibration fluids, either all liquid or all gas. A manual calibration option allows the operator to calibrate the analyser at any time.
To purchase this product, contact your local nearest Swagelok location or view our comprehesive
CATALOGUE
"Safe Product Selection: The complete catalog contents must be reviewed to ensure that the system designer and user make a safe product selection. When selecting products, the total system design must be considered to ensure safe, trouble-free performance. Function, material compatibility, adequate ratings, proper installation, operation, and maintenance are the responsibilities of the system designer and user.

Caution: Do not mix or interchange product components with those of other manufacturers."