Swagelok provide support across all stages of your project.
Feasibility - Leveraging our Global Expertise, customers share their goals with Swagelok in the feasibility stage. We collaborate with our global team, capturing industry best practises and application insight to ensure an optimal design is utilised.
This early concept phase is vital also in understanding why a business wants to make this change. Reducing costs, improving safety and system standardisation are some of the common reasons, but other factors may be equally important and must be thoroughly understood.
Front End Engineering & Design – Once the project moves to the FEED stage, Swagelok are utilised to ensure products selected are readily available and compatible with the system requirements. Swagelok can aid customers in correct product selection, reducing and in some cases eliminating longer lead time items and choosing products where spares will be readily available.
Detailed Design – Standardisation is a key driver in industry today. Why create something that already exists? Swagelok can leverage their global expertise in application development and aid standardisation of systems in the detailed design phase.
Using this experience, Swagelok can further reduce costs of projects by providing complete panels and assemblies built to customer designs and covered by the Swagelok Limited Lifetime Warranty. Who else knows Swagelok products like we do? Our extensive range of high quality products, coupled with our 70+ years industry experience means we can fully support your design team deliver their projects.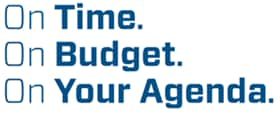 Construction – Once the soil is turned, timely supply and no surprises become paramount in keeping the project on time, on budget and on your agenda. Products have been selected in the earlier phases and clear lead times developed. Once construction commences, long lead time items are purchased first and Swagelok helps with the management of this task.
Enabling Custom Solutions to build panels and assemblies also significantly cuts down on-site labour times, with pre-built, complete panels and assemblies arriving for simple hook up requirements. All documentation and testing is completed.
Commissioning – The final phase sees our Field Engineers often employed to be onsite to troubleshoot or solve any last minute issues. With prior planning, this stage often occurs faultlessly, completing the project on-time and on specification
DOWNLOAD Your Project Support Guide