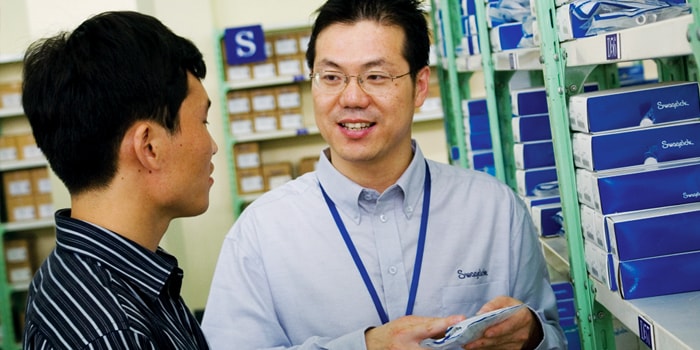 We Can Add Value to Your Supply Chain
The efficiency of your operation depends on having the right fluid system components on hand when you need them.
With fewer resources on hand, you may not have a free person on your staff to dedicate to ordering and inventory maintenance.
That's where our authorised sales and service centers come in. Our sales and service representatives are knowledgeable business leaders who understand your challenges and develop inventory management and other value-added services, such as:
Kitting (products grouped under one part number and pre-packaged)
Products on consignment (held on site at our expense until you need them)
Automatic replenishment of your inventory
Product vending equipment, if appropriate
Summary billing
Order expediting
Product selection and guidance
We keep 10,500 standard products in inventory, readily available at our more than 200 authorised sales and service centers worldwide. In addition, we keep a large inventory of components so we can provide short lead times on Assemble to Order (ATO) products. For special or unique challenges, we provide make to order (MTO) and engineer to order products (ETOP).
If you have more than one location, we can also help with coordination or logistical challenges between those locations, even if they are on different continents.
Our mission is to ensure you have the components you need when you need them. At the same time, we aim to reduce your procurement and inventory costs.
Talk to us today,