Fabrication and Assembly Services
Take the highest quality components, combine them with industry-leading engineering and technology, the result is fluid system assemblies like no other. That's what you get from Swagelok Custom Solutions.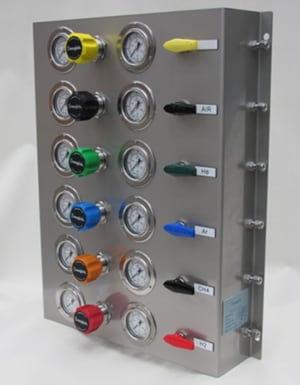 No one knows the inner workings of fluid system components better than Swagelok, or how they best work together.
That's because Swagelok has been designing and manufacturing fluid system components for more than 70 years, no other company offering assembly services can say the same.
Whether you have a preliminary drawing or just the glimmer of an idea, it's not too early to consult with our fluid system experts. From quote to delivery, we can provide the detailed support you need:
CAD drawing
P&ID
Component selection (including sourcing the best parts from other suppliers, as needed)
Bill of materials
Professional services, such as bending and welding
Testing to guarantee the system
Professional packaging and delivery
We have experience in buiding;
Analyser Panels and Shelters
Instrument Gas Panels
Fuel Gas Panels
Pressure Reduction Panels
Lube Skids
Chemical Dosing Panels
View our Past Projects.
Learn more about how Swagelok Fabrication Services can fulfill your needs. You'll find no higher quality or expertise anywhere. Swagelok assemblies can meet specifications for any industry, no matter how demanding and Swagelok offer a range of additional services including;
Actuated Ball Valve Assemblies
Gas Changeover Panels
Regulator Assemblies
Relief Valve Setting
Sample Cylinder Assemblies
Tube Bending Services
You trust our components; now trust our experts to create the best fluid system assembly you can have.